Guitar Mania Quiz:
Please answer True or False
1. You have slept with your guitar.
2. You regard thick finger callouses as a status symbol.
3. You see finger patterns on the fretboard when you close your eyes at night.
4. You have named your guitar.
5. You feel that you should have started playing when you were three and
never stopped.
6. You love to discuss chord theory.
7. Your guitar case is fancier than your clothes.
8. You tell yourself you'll play it "one more time" and two hours later you're
still not in bed.
9. You spend vacations at Guitar Camp!
10. You feel that your guitar is one of your best friends.

11. You resonate with the cartoon below: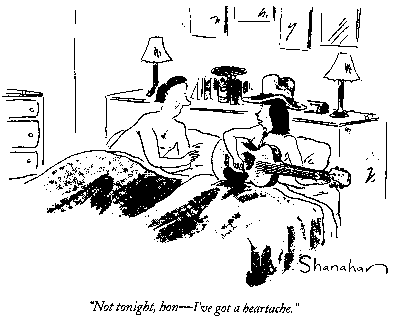 Scoring Procedure:
More than three 'Trues'? We think you will like
From Women's Hearts and Hands Guitar Camp!